Table of Contents:
1. Overview
Dark Web Monitoring is a proactive cybersecurity service offered by CanIPhish to help businesses safeguard their sensitive information by tracking the dark web for potential data breaches involving employee email addresses. This service leverages advanced technology and cybersecurity expertise to ensure that customers stay informed and take necessary actions to protect their data.
2. Key Features
Email Address Monitoring: The service continuously scans the dark web for mentions of email addresses associated with your employees. To facilitate this, CanIPhish gathers every email address across every employee list.

Data Breach Alerts: Whenever an email address linked to an employee is detected in a data breach or appears for sale on the dark web, the system generates real-time alerts. These alerts include details such as the type of data compromised and the source of the breach. Both the affected employees and administrators can receive these automated notifications.

Dark Web Threat Intelligence: CanIPhish also provides insights into data breaches, providing detailed information on the service breached, data leaked, date of the breach, and a description of the breach itself.
3. Key Benefits:
Proactive Data Protection: You can take swift action to secure employee accounts and sensitive information if you are aware of data breaches early.

Reduced Cyber Risk: By monitoring email addresses, you can reduce the risk of account takeovers, identity theft, and other cyberattacks.

Compliance Support: For businesses subject to data protection regulations, such as GDPR or HIPAA, the service helps demonstrate due diligence in protecting both customer and employee data.

Peace of Mind: You gain peace of mind knowing that employee email addresses are being actively monitored on the dark web, allowing you to focus on your core activities.
4. How To Get Started:
Note: Dark web monitoring is only available for customers with paid subscriptions.
4.1 Activate Dark Web Monitoring by going to the Employee Information tab on the Reporting page and clicking the Dark Web Monitoring button:


4.2 Accept the terms to complete the Activation process: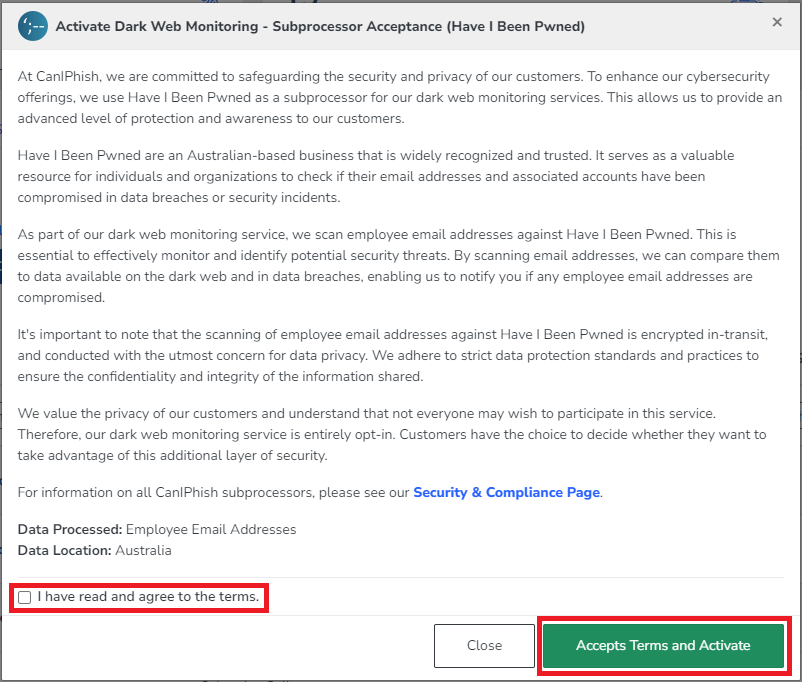 4.3. Wait up to 15 minutes for the initial dark web scan to complete. After which, re-scans take place every 24 hours.