Managing multiple customers from a single CanIPhish account is designed to be simple and easy. You'll be able to create new customer tenants on an as-needed basis, seamlessly switch between them and also copy white-labelled settings between each.
This article will guide you through the process of using the Customer Management Dashbaord: https://caniphish.com/User/UserProfile?queryType=ManageCustomer
Getting Started
The customer management dashboard isn't enabled by default. This functionality is reserved for use by CanIPhish Partners. If you'd like to become a partner, simply register interest on our Partner page or send an email to support@caniphish.com. Just provide us with a brief description of what your company provides (e.g. Managed Service Provider, Consultancy, Penetration Tester, etc.) and we'll take it from there!
Once enabled, the customer management dashboard will be available at: https://caniphish.com/User/UserProfile?queryType=ManageCustomer
It can also be accessed by clicking the User Profile icon within the CanIPhish Cloud Platform: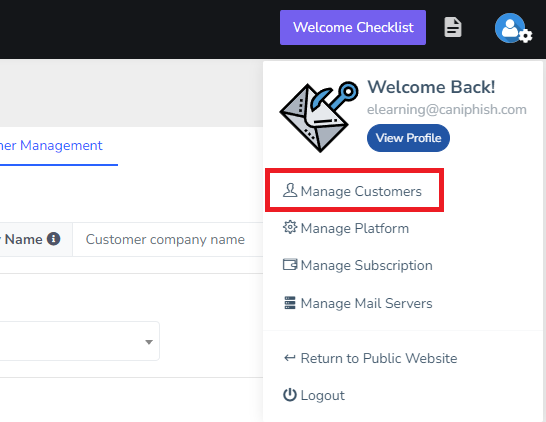 Creating Customer Tenants
Once the customer management dashboard has been enabled, you'll be able to seamlessly create new customer tenants.
To do this, simply select the customers preferred storage region, specify their company name and click create tenant!

Switching Customer Tenants
Once a customer tenant has been created, it'll appear as a tenant available in the dropdown selector under the Change Active Tenant heading:
The item flagged with the "Current Tenant" prefix represents the customer tenant you are actively logged into. If you select another tenant from the dropdown, you will be seamlessly switched into that new tenant. You'll notice that the page re-loads during this process. In this case, I selected the "CanIPhish Demo 4" tenant.
You can distinguish the tenant you're actively logged into, by looking for the company name associated to it. This can be viewed in three locations:
Location 1: User Profile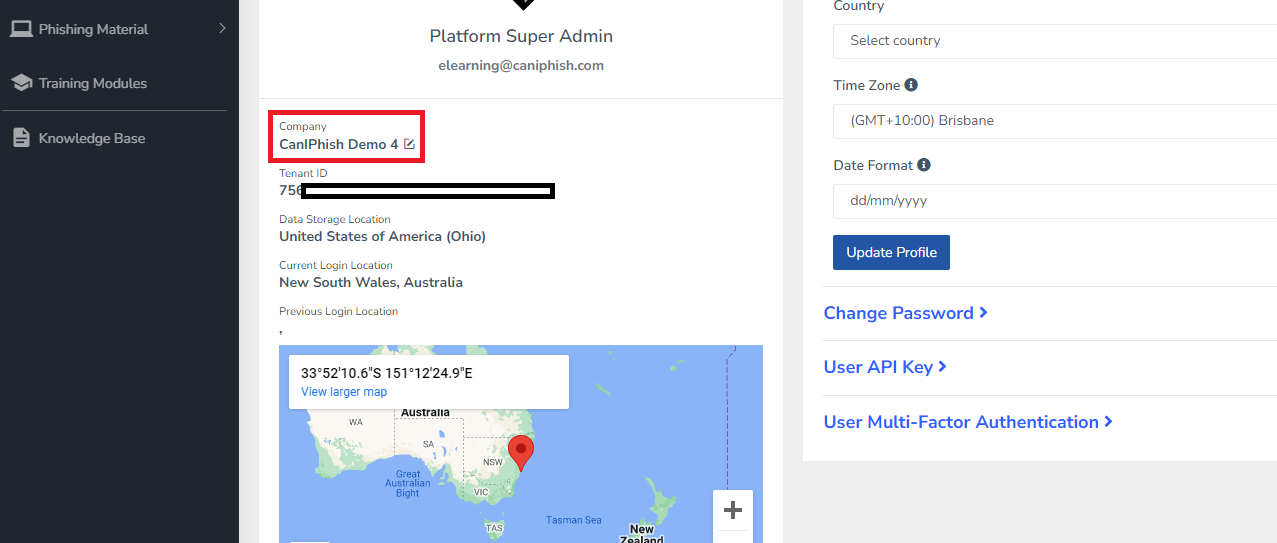 Location 2: User Profile Icon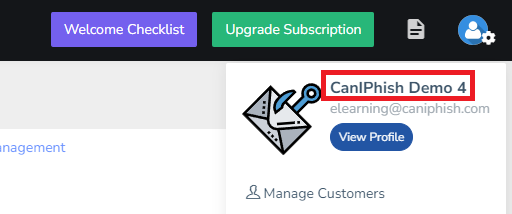 Location 3: Active tenant on customer management dashboard

Managing Customer Tenants
Each customer tenant operates in complete isolation. It has its own seperate role-based access controls, subscription, employee lists, campaigns, reporting, etc. This is designed to prevent customer data spillovers. While each tenant is completely separate, we have introduced automation to copy white-labelling settings between each tenant. This is designed to simplify the process of managing white-labelling, as setting it up for each new customer tenant would be tedious and inefficient.
To copy white-labelled settings between customer tenants (where white-labelling has already been setup on atleast one tenant), follow the below steps:
1. Select the Activate button next to a tenant you'd like to copy white-labelled settings to:
Under the "From" dropdown, select the tenant which you'd like to copy the settings FROM:
Select Save and you're all done!
Troubleshooting: If you notice that the tenant you're actively logged into has a "Disabled" button instead of "Activate" button, simply switch to a different tenant that you're controlling and then attempt to activate. This is a known limitation.